Congratulations to Totsy Rees & Fuego on their Recent Victories!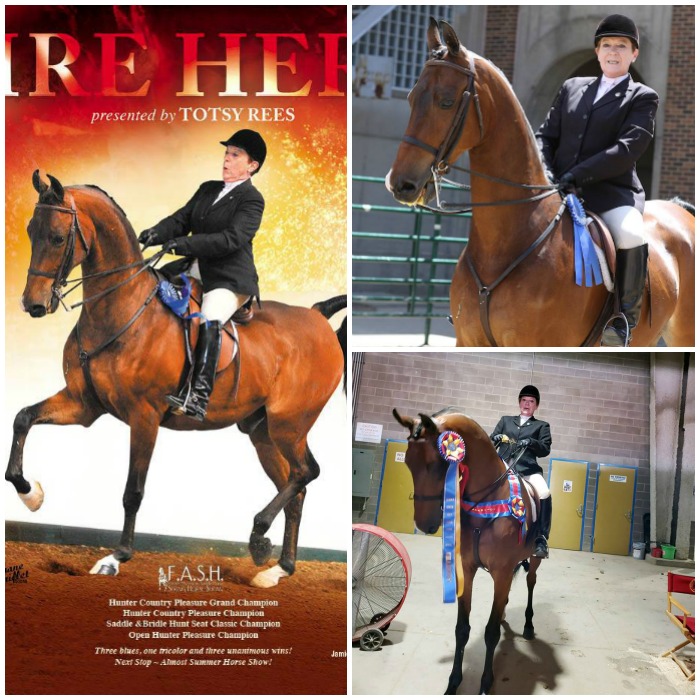 CRMCA lobbyist, Totsy Rees, has been on a winning streak this summer with her horse, Fuego. Together they have competed in the FASH, Almost Summer, and Denver Queen City Horse shows. Out of the three shows, they have won all but one class! We recently sat down with Totsy Rees to learn more about how she got involved in the riding community, her take on the positive effects the community has on children, and her history with the CRMCA and CSSGA.
What is your involvement with the CRMCA and the CSSGA?
I have been honored to lobby for the two associations for almost 20 years. I began when my mother, Diane Rees, and her business partner, Frank DeFilippo, made me an offer I couldn't refuse and in 2000 I joined Bledsoe DeFilippo Rees. When they retired, I bought the firm and the relationship with CRMCA/CSSGA continues to be great. I'm lucky for the leadership of both associations that help make my job work well.
This summer you and your horse Fuego have been on a winning streak. Which races have you participated and placed in?
Fuego and I have been a team for 10 years. I bought him to be my western pleasure horse, but after I developed sciatic pain, I switched him to English. He seems to like it. This year we have competed in FASH, Almost Summer and the Denver Queen City Horse shows. (I want to thank the associations for their sponsorships.) Out of the three shows, we have won all but one class and that was my fault. I didn't trust Fuego to do his job.
I'm planning on another show in Denver, then St. Louis, Las Vegas, and Kansas City.
How did you first get involved with horseback riding and racing?
When I was 5 or 6 years old, my mom and dad bought my sister, Dana, and me a horse. I think they knew we wanted a horse when we named our black cat Fury after the television horse. Sugar was half Quarter horse and half Morgan. Looking back, he was very spoiled by her previous owner but we didn't know that at the time. With this purchase came riding lessons and I began showing at 6 or 7.  Horses have been in my life ever since. I competed in rodeos as  well and won The Senior Girls Bull riding two years in a row during high school.
What are some of your favorite aspects of the riding community?
Horses raise great kids. Young children who learn the responsibility of caring for an animal are usually too busy to get in trouble later. I've seen many young women and men gain confidence through their equine partners. When competing, any one can win on any given day. Kids win or lose and they can either be a gracious winner or loser or a bad sport. I have no patience for bad sports and believe the kids competing support each other win or lose.