April 2022 Executive Director's Blog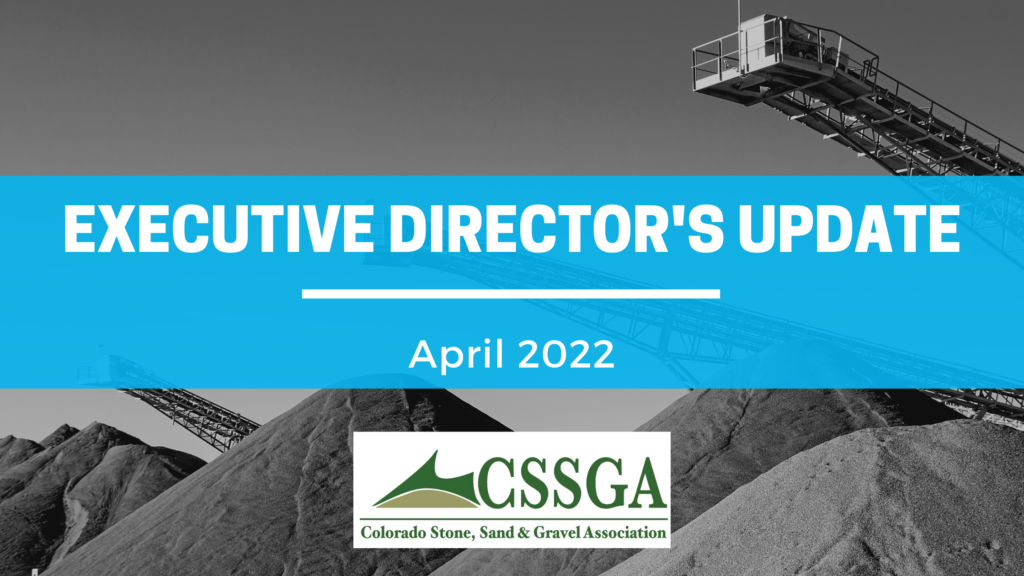 Hello CSSGA Members. It is great to be able to interact and greet our business associates face to face. So, we continue our emphasis on re-engagement and personal interaction. As we transition from winter to spring, the weather is improving, and the days are getting longer. With this, comes the beginning of the busy construction season. Here are a few highlights of current activities and things to come.
March Legislative Breakfast. Before the board meeting on March 23, Representative Mike Lynch spoke at the joint CRMCA/CSSGA Legislative Breakfast. It was a great opportunity to discuss specifics underway at the Capitol and gain insight on bills to follow. Here is a summary of the bills CSSGA is tracking with the Legislative Subcommittee.
The Gayle Lyman Memorial Scholarship process is being rolled out this month. This is a great program where CSSGA gives back to the industry and youth. I welcome you to review and distribute the information and help us gather a strong selection of applicants. The 2022-2023 application is available here.
Upcoming Events

CRMCA/CSSGA Spring Networking Event on April 19. This will take place at ACE Eat & Serve in downtown Denver. Come out to re-engage with member and business acquaintances.
Teller County Key Ceremony on April 21. While this is a CRMCA event, all industry partners are welcome. Be part of the action as the Habitat for Humanity home we have participated with is officially turned over to the new owners. This entire community is built entirely with concrete and ICF construction.
Concrete Day on April 29. Again, while primarily another CRMCA all are welcome, as we B-B-Q hamburgers and hot dogs for everyone at the state Capitol. While CSSGA members deal with many of the same issues and legislators, our members are welcome to participate. We are always looking for volunteers, so contact Emma Dolan if you can assist.
Western Slope Networking in June – Details to follow, but it is time to host another Networking Event on the West Slope as we are again able to move throughout the state.
Summer Conference in Steamboat on July 21-22. Save the date now and get registered for this great event. I look forward to seeing everyone in Steamboat!
There is a lot going on. Contact Annelise or myself if we can be of assistance. Thank you.
Leave a Reply
You must be logged in to post a comment.