August 2023 Executive Director's Update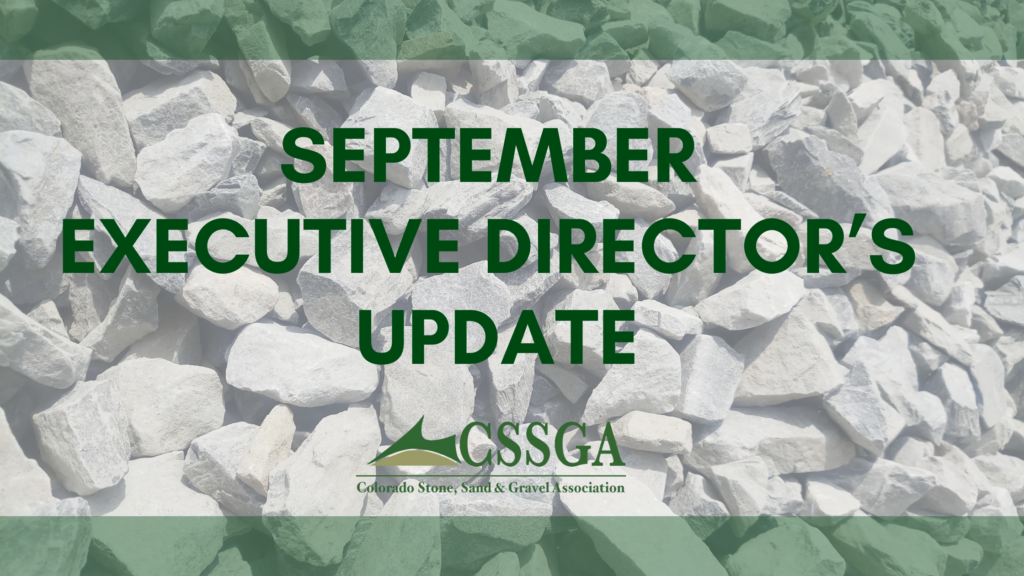 Hello CSSGA members. Here is the most recent version of the update. I hope your summer continues to go well. While it has been hot, we will soon be asking for warmer weather as fall sets in. I personally prefer the heat! Here is a brief update.
Governmental Affairs and Environmental Issues

Waters of the US (WOTUS). As mentioned in the previous columns, the Colorado Department of Public Health & Environment (CDPHE) has requested the participation of CSSGA & CRMCA in a Task Force to discuss WOTUS and possible actions due to changes going on Nationally. We have submitted comments and will be very involved regarding a congressional bill that is being drafted now. Our next steps will be to engage in the bill drafting and legislative process on behalf of the concrete and aggregate mining industries.
Also, regarding Governmental Affairs, We will soon be holding strategy sessions to discuss ways to increase our GA impact and effectiveness. This will address out Legislative Breakfast process which occurs during the legislative Session each year. While the program we have continues to be effective, we are looking to improve wherever possible. Look for more information to follow or contact Todd if you would like to be involved.

Member Engagement Roundtable Sessions:  As a pilot program, we completed several Roundtable sessions with CRMCA members to gather feedback and input on ways to increase member engagement and be more effective for members.  Emma Dolan and I traveled across the state to members office locations as part of this process.  Key findings and take-a-ways were discussed with the board of directors as part of our recent summer outing, and several changes will be implemented over the coming months.  We will be considering introducing this process to CSSGA in the future.  Thanks to those who were part of the process and contributed your thoughts and ideas.

Events:
The Summer Outing was another huge success in Vail on August 17 & 18. In addition to the golf and business networking, the CRMCA and CSSGA board of director groups go through a session for updating our strategic plan. This is a critical part of our business process that keeps us focused on the things that are important to the board and the entire concrete industry.
Sporting Clay Shoot – The Sporting Clay Shoot is just around the corner, scheduled for Sept 18.  Always a great time for Networking and business interaction.  Register today and make plans to attend!!!
Lastly, the registration for the Annual Conference at the Broadmoor in Colorado Springs is out now.  The event is scheduled for November 16 and 17 and I look forward to seeing all current CSSGA & CRMCA members there.  We are getting some great speakers set up for the keynotes and breakout sessions.  It promises to be a great event.  You can register here or contact the CRMCA office for information on this event.
Thanks again. Please reach out if we can be of assistance.
Todd R. Ohlheiser, CAE
Executive Director
Colorado Ready Mixed Concrete Association (CRMCA)
Colorado Stone, Sand & Gravel Association (CSSGA)
(c) 303.882.6879
Leave a Reply
You must be logged in to post a comment.