January 2021 Executive Director's Blog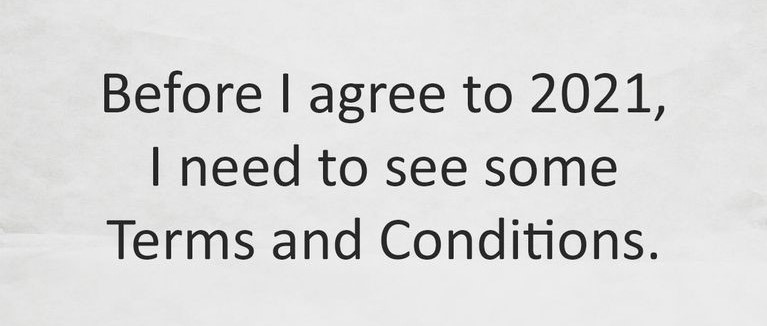 Hello to all in the aggregate and mining industry.  At the risk of restating the obvious, HAPPY NEW YEAR.  I cannot think of a better phase, as this means 2020, is now 2020 hindsight (sorry, I couldn't help myself).  A year like no other.  A year that changed the way we live and in too many cases, destroyed families and businesses.  We are very fortunate to be considered an essential industry and keep the wheels turning.  While this had its challenges, it was far better than the alternative.
As we look ahead, Annelise sent me a great phase today that made me think about the new year.  It reads "Before I agree to 2021, I need to see some Terms and Conditions".  It reminds me of how we study and negotiate all aspects of our business and personal lives, and want to carry that concept into the COVID-19 pandemic and national unrest.  I am personally glad to have 2020 behind us, and look forward to the better days ahead.  However, like you, I wish we had more direct control, like we do in many other things.  So, while we are unable to see the Terms and Conditions of 2021, we know we are resilient and creative.  With the "can do" attitude that American's have brought to every other challenge, 2021 can and will be on the road to recovery.
As I mentioned in the CRMCA blog, our working committees and other meetings remain on line.  We, like everyone, are "Zoomed Out", however, it remains the reality in the near future.  Thanks to everyone for their patience in this transition and your ongoing involvement and participation.  Thanks to you we have proven much can be accomplished with this remote process.
Regarding the upcoming legislative session, it is also in flux.  Per the state constitution, the 2021 session will start on Jan 13, but will only meet for 3 days before stopping.  They currently plan to reconvene on February 16.  Our Legislative Sub-Committee will be reviewing bills and providing input as necessary.  As far as other dates and events, as developments occur, we will modify and change accordingly.  We will schedule face-to-face meetings as soon as possible, while adhering to CDPHE guidelines.
Again, thanks for your involvement.  I hope the year is off to a great start and it remains that way throughout, whether you are able to see the Terms and Conditions of 2021, or not.  Happy New Year!
Todd R. Ohlheiser
Executive Director
Leave a Reply
You must be logged in to post a comment.