June 2021 President's Blog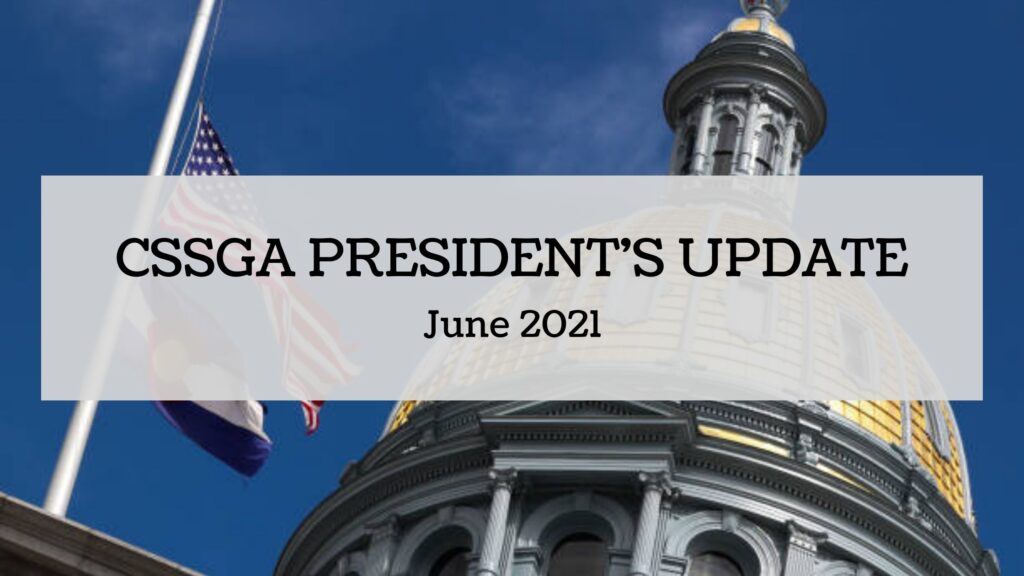 Greetings CSSGA Members,
Summer is in full swing and we as an organization are running at the same pace. Below is an update from our Governmental Affairs Committee which has been working closely with legislators and committees at the State Capitol. We are pleased to see a return to in person meetings, networking events and conferences. I would appreciate your time and feedback to complete the Virtual, In-Person & Hybrid Meetings and Conferences Survey link listed below. Have a safe and enjoyable June!
Governmental Affairs
Sustainability Of The Transportation System. On June 2, SB21-260, passed the Colorado House and was sent to Governor Jared Polis. One provision in the bill would tap an existing source of state revenue for transportation. Specifically, $507 million in one-time funding would come from the state's general fund for fiscal year 2021-22. Additionally, the State Highway Fund would receive $355.2 million. Another $24 million would go to local governments. The remaining $127.8 million would be directed for multimodal uses.
Global Warming Potential For Public Project Materials. Executive Director, Todd Ohlheiser, and along with the National Ready Mixed Concrete Association's SVP, Sustainability, Codes and Standards, Tien Peng, provided expert testimony on Colorado HB21-1303, Global Warming Potential For Public Project Materials on May 20.
Workers Compensation Physician. CSSGA Legislative Subcommittee members actively monitored this legislation which was postponed indefinitely on May 27. Similar legislation is expected to return in 2022.
Events
Thanks,
Zane Luttrell, Rocky Mountain Aggregate & Construction LLC
CSSGA Board President
Leave a Reply
You must be logged in to post a comment.