May 2021 Executive Director's Blog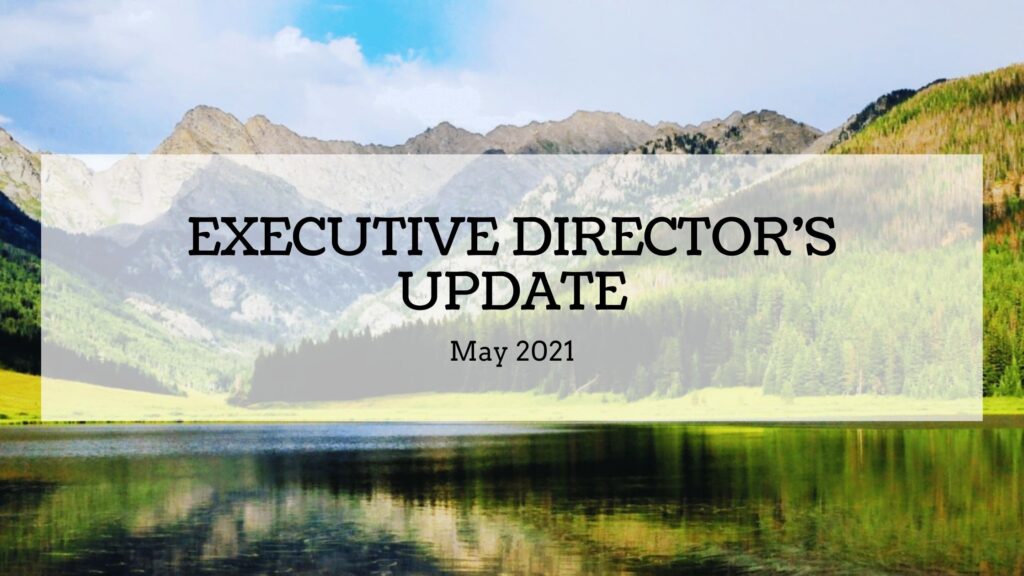 Hello Colorado Stone, Sand & Gravel Association! Here is the current CSSGA Blog and what is going on with your aggregate trade association.
I need to start with general comments regarding the virus. YES, the issue that has disrupted everyone, killed many, and changed us all. I am hopeful we look back on the past year and use lessons learned in improving your personal situation and with those around you. While we can not get ahead of ourselves, it is great to see the vaccinations working and things are beginning to open up. Lives are beginning to get back to somewhat normal. However, as I have stated before, it is not clear what the new "normal" looks like.
As our trade association proceeds with caution and optimism, we have scheduled a Networking Event for the evening of June 15. This date is the evening of the CRMCA board meeting, and the evening before the CSSGA Board meeting on June 16. So we are hopeful those board members from beyond this area can attend. This with be in an outdoor setting at ACE EatServe in Denver. At ACE, the Eat obviously refers to good food, and the Serve refers to "ping pong". That's right, ping pong! So plan to attend this casual and relaxed setting to interact with business acquaintances you may not have seen in person for well over a year. Plan to attend if possible.
Additionally, 2 months later is the Summer Conference in Vail, August 12-13th. While this had been a CRMCA event, and CSSGA did a separate event later in the fall, both boards decided to pull this together for 1 joint event. I hope all can attend as it will be great to actually see people beyond the Zoom screen on our computers!
Regarding National issues, CSSGA strongly supports the national ROCKS Act.
Led by our industry partners at NSSGA, the ROCKS Act establishes a working group of federal, state and local stakeholders to examine the use of aggregates and institute a federal policy to ensure continued access to this essential building resource. Introduced January 29 by Congressman Greg Stanton (AZ), H.R. 611, the ROCKS Act has seen continued bipartisan support in the House of Representatives. While NSSGA and CSSGA both continue making progress to drive support for H.R. 611—we cannot do it alone. Members of Congress want to hear directly from their constituents, so we're asking you to send a letter to your elected officials today! Here is a link to help craft your message.
Regarding the Colorado legislative session and our Governmental Affairs Committee.
The Colorado General Assembly session is well underway and the Legislative Subcommittee continues to communicate every Monday on various bills introduced. While getting off to a late start due to the virus, the legislative session is expected to run into June of this year. I want to thank Totsy Rees and our lobbying firm, Rees Consulting, who continue to do a great job in making our voices heard and driving changes where possible.
One of the main issues we have been involved in for CSSGA is the CDPHE Dredge and Fill draft bill involving Gap Waters of the U.S. While not formally introduced at this time, much activity continues as we have taken the leadership role in the state offering a legitimate alternative to legislation and the development of an entirely new department at CDPHE.
Also, the long awaited Infrastructure Funding Bill has been introduced this week, SB 260. Here is an article with general information regarding the bill along with the press conference that took place this week. As it was only introduced this week, our Legislative Subcommittee is reviewing and will discuss at our next meeting.
Lastly, I want to mention the upcoming DOT Audit Webinar on May 13 which will be presented by Colorado State Patrol's Sgt. Todd James. Register here!
Thank you, and as always, reach out with any questions and be safe.
Todd R. Ohlheiser, CAE
Executive Director
Leave a Reply
You must be logged in to post a comment.