March 2022 Presidents' Update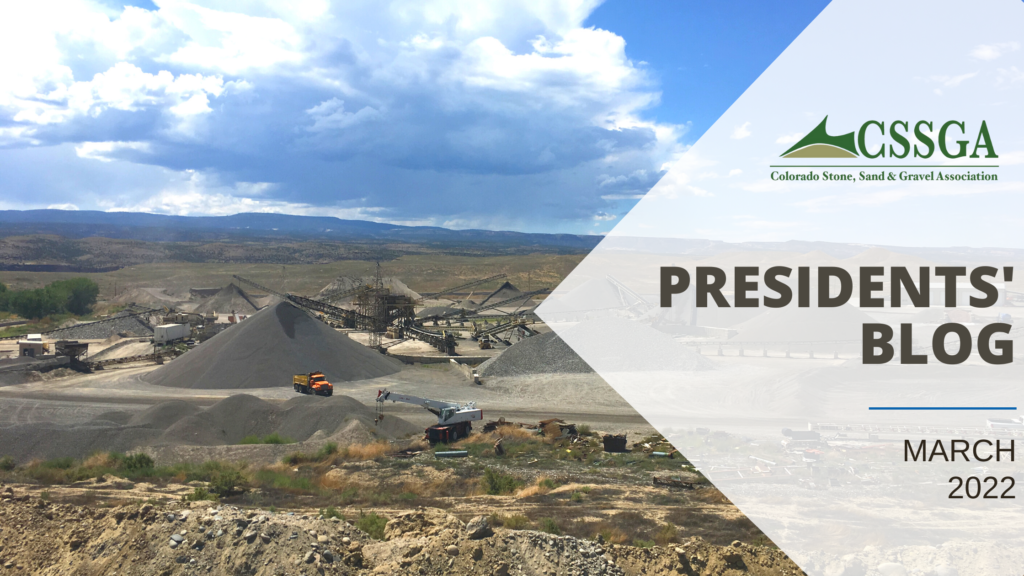 2022 will be a busy year for CSSGA. The Colorado State Legislature has convened, and we are anticipating a busy year. Many of the regulatory agencies who oversee our industry are also in full swing with rule making and implementation of prior legislation. Read below for a recap of the latest news.
Governmental Affairs. Last week, we restarted the in person Legislative Breakfast sessions at the Tetra Tech downtown facility. This occurred February 23 with guest speakers Max Hynes and Andres Carrera from Sen. Hickenlooper's office. Totsy Rees with Rees Consulting presented the most recent update of the bills we are debating during the session <<INSERT PRESENTATION>>. The Legislative Subcommittee continues to meet on Monday mornings. Please contact Annelise Shepherd if you would like to get involved.
Land Use & Environmental. CSSGA members continue to interact with regulatory agencies, including the Colorado Department of Health & Environment (CDPHE) and the Colorado Division of Reclamation, Mining & Safety (DRMS). 

Joel Minor, program manager for CDPHE's Environmental Justice Department presented at last month's committee meeting <<INSERT PRESENTATION>>. CSSGA members plan to stay engaged in the environmental justice movement by submitting comments, working with our communities, and actively participating in boards and task forces.
Members are participating in CDPHE's science panel for air modeling. Land Use & Environmental Committee members began a task force, individuals involved in the task force plan to meet with regulators and policy makers to find common sense solutions for air quality monitoring in the state.

Events.

Ski Retreat. The Ski Retreat was a huge success and very well attended in Breckenridge on Jan 31 & Feb 1. Thanks to our event sponsors including BURNCO Colorado, CHRYSO, Martin Marietta, and Monarch Mountain Minerals and Aggregates.
Virtual Safety Awards Ceremony. CRMCA and CSSGA recognized the 2021 Team Safety Awards winners during the virtual event on March 3. Congratulations to the teams for their continued commitment to safety.
Legislative Breakfast. The next Legislative Breakfast is scheduled for March 23rd at 7:30 am at Civic Center Plaza (1560 Broadway, 19th Floor Conference Room, Denver, CO 80202). Email annelise@coloradocaa.org to RSVP and for more info.

Summer Conference. Save the date for the 2022 Summer Conference in Steamboat Springs. This event will take place on July 21-22.
I hope you enjoy your month and we are able to connect soon. Thank you.
Mark Gardner, Whitewater Building Materials
Board President, Colorado Stone, Sand & Gravel Association
Leave a Reply
You must be logged in to post a comment.